Redneck caviar is one of the easiest and fastest recipes to make for any gathering, party, or game day. It takes almost no time to make and is dairy free and gluten free. The recipe is versatile enough to make adjustments to to make it your own and is a favorite for kids and adults alike.
No time to read now?
No worries! Save to Pinterest and read later.
Save to Pinterest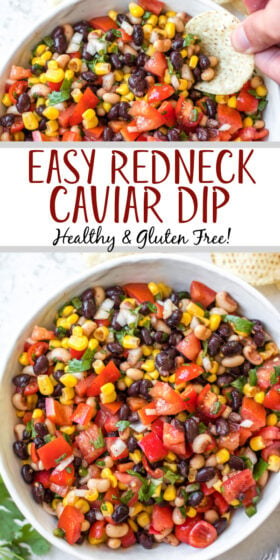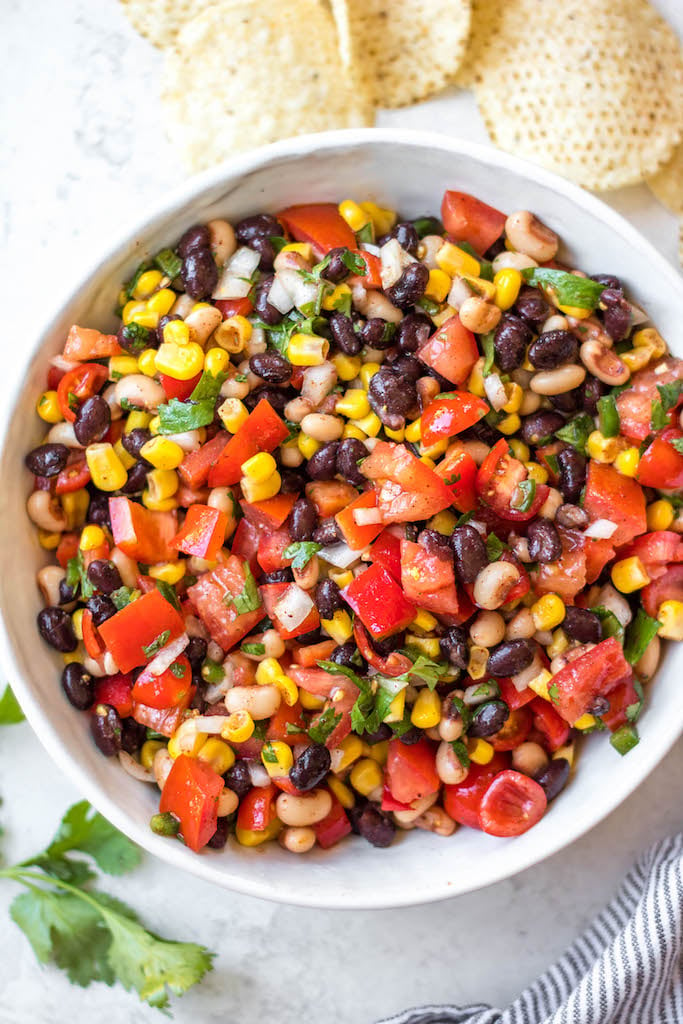 Why You'll Love This Recipe
Fast: This recipe takes almost no time to make and you can't beat a quick appetizer.
Easy and healthy: Redneck caviar is a super easy recipe to make to get yourself a great dip that has no sugar, is gluten free, dairy free and full of veggies! It's a fresh veggie dip that doesn't need to be cooked or baked and everyone can enjoy.
Great for gatherings: This is a perfect choice for a gathering or party. You can double the recipe for more people if necessary and with how quick and easy it is you can't go wrong.
Customizable: This recipe is the best combination of a fresh corn dip and a bean dip but if there's an ingredient you're not so excited about, redneck caviar is one of those recipes that you can swap any number of things in and out of to make it your own.
Ingredients for Redneck Caviar
To make this simple recipe you will start with a pound of diced tomatoes (cherry or Roma are my favorites but anything goes), one diced red bell pepper, a large jalapeño that has been diced and seeded, and a half of a finely diced onion (red or white, your call depending on preference).
The canned goods you will need for this recipe are a 15 ounce can of drained sweet corn, a 15 ounce can of drained and rinsed black eyed peas, and a 15 ounce can of drained and rinsed black beans.
For the remainder of the ingredients for your redneck caviar, you will need a cup of loosely packed cilantro, 4 tablespoons of olive oil, 3-4 tablespoons of red wine vinegar, 2 teaspoons of chili powder, a teaspoon of cumin, a teaspoon of kosher salt, and the juice from a large lime (about 2 tablespoons of juice).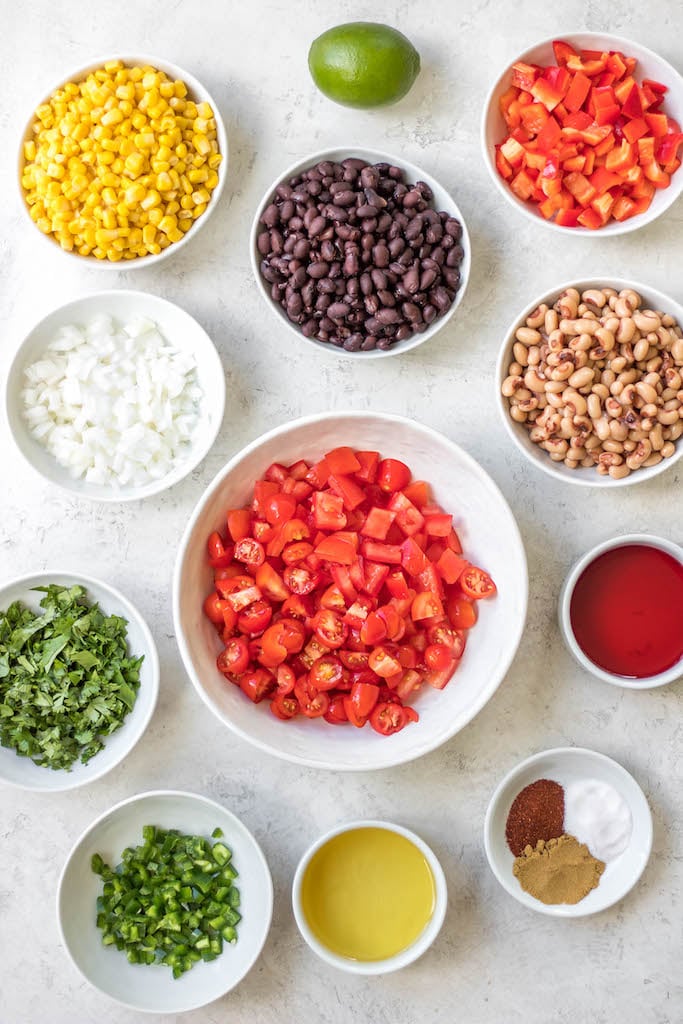 How to Make Redneck Caviar
Step 1
The first step to making redneck caviar is to gather your ingredients and get everything prepped. Open and drain the sweet corn. Drain and rinse the beans. Dice the tomatoes and bell pepper and de-seed and dice the jalapeño. Chop and measure out the cilantro and dice the onion.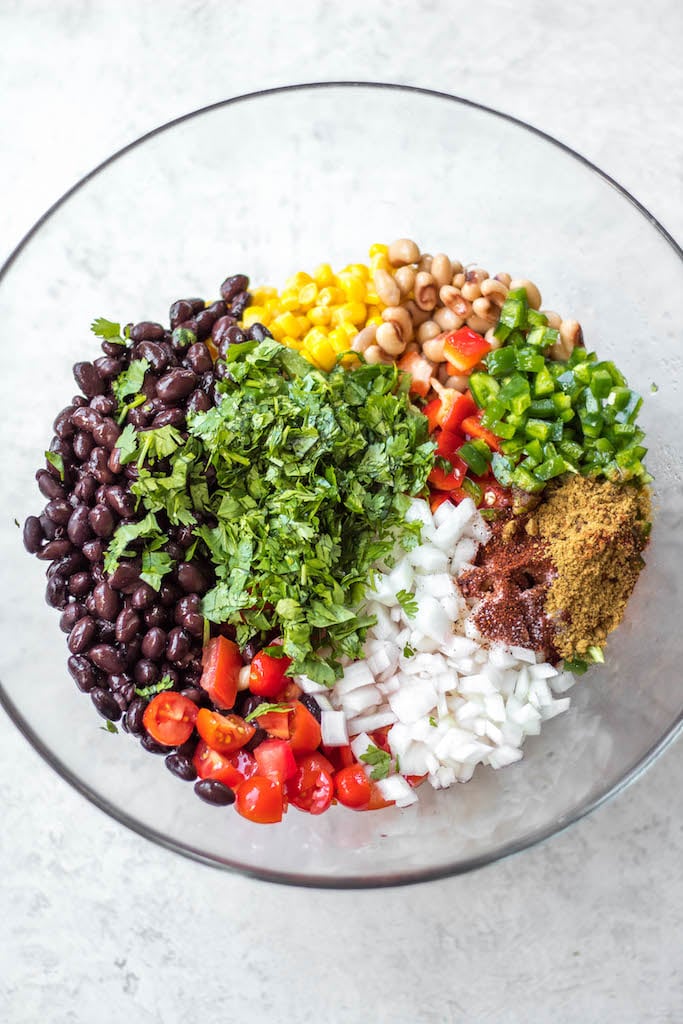 Step 2
Next up is to add all the vegetables to a large bowl and mix them up. Then add the olive oil, vinegar, chili powder, cumin, salt, and lime juice. Mix all of it together until it is well combined.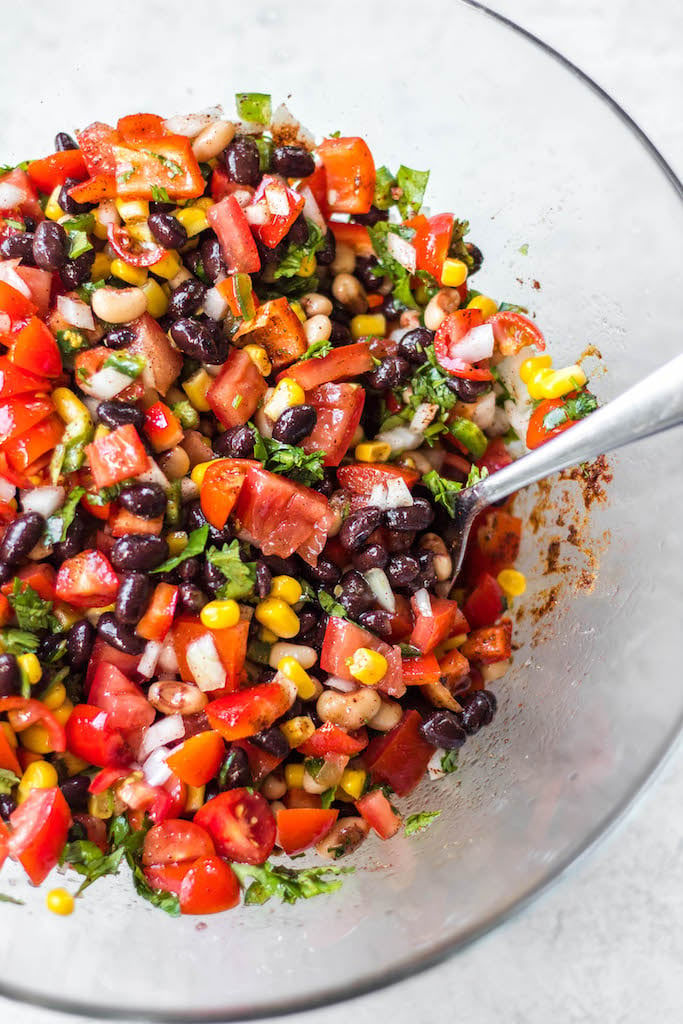 Step 3
Do a taste test and add a little of any of the seasonings to taste or if you'd prefer a little more spice add a second jalapeño or a sprinkle of red pepper flakes. You can serve this right away or optionally you can let it chill in the fridge for a half hour to let the flavors combine a little.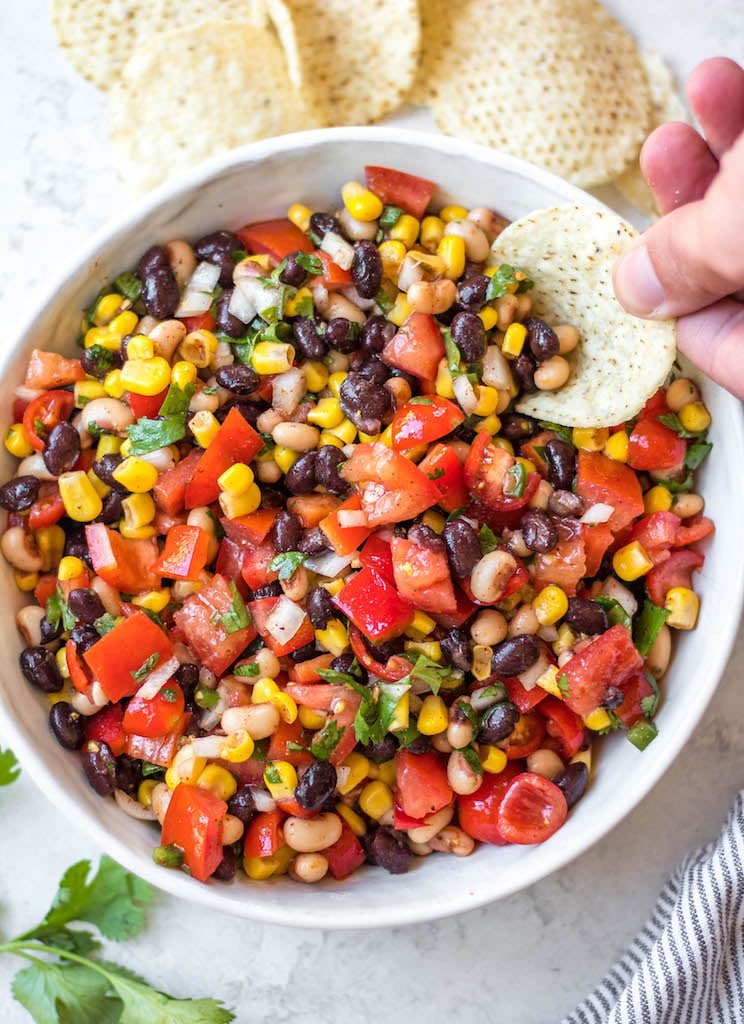 Serving and Storing Instructions
To garnish this recipe, add a little extra chopped cilantro. If you're a cheese fan you can always add some shredded cheese, sliced string cheese slices, or feta. All of those work well with this recipe. You can also do a small drizzle of Frank's Red Hot if you want a little extra kick to your redneck caviar.
The standard for serving this recipe is tortilla chips and you can never go wrong there. To go outside the box a little bit, this recipe is a solid option on a bed of lettuce as a salad, as well. You can also simply use this recipe as a topping for tacos or nachos or the like.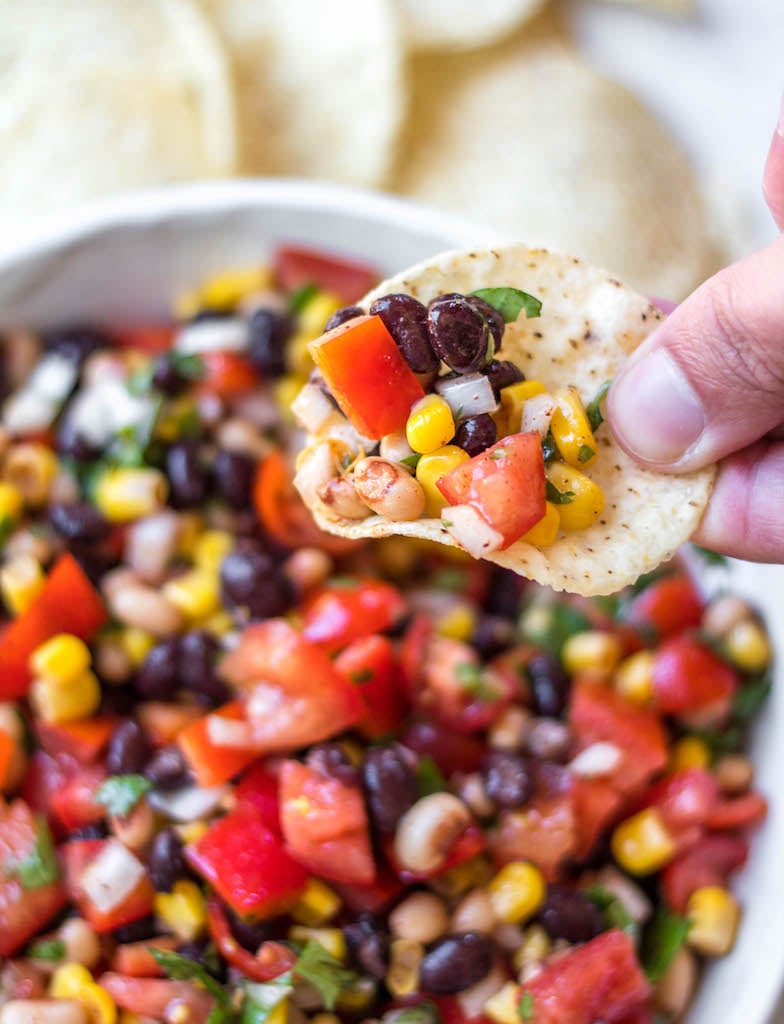 One of my other favorites is to dish up a little redneck caviar in a half of a seeded red or green bell pepper. It makes a nice edible bowl that works well with the flavors of the recipe.
To store this recipe simply place it into an airtight container and refrigerate. It will keep well in the fridge for about 5 days. This being said, it'll be finished by then anyways!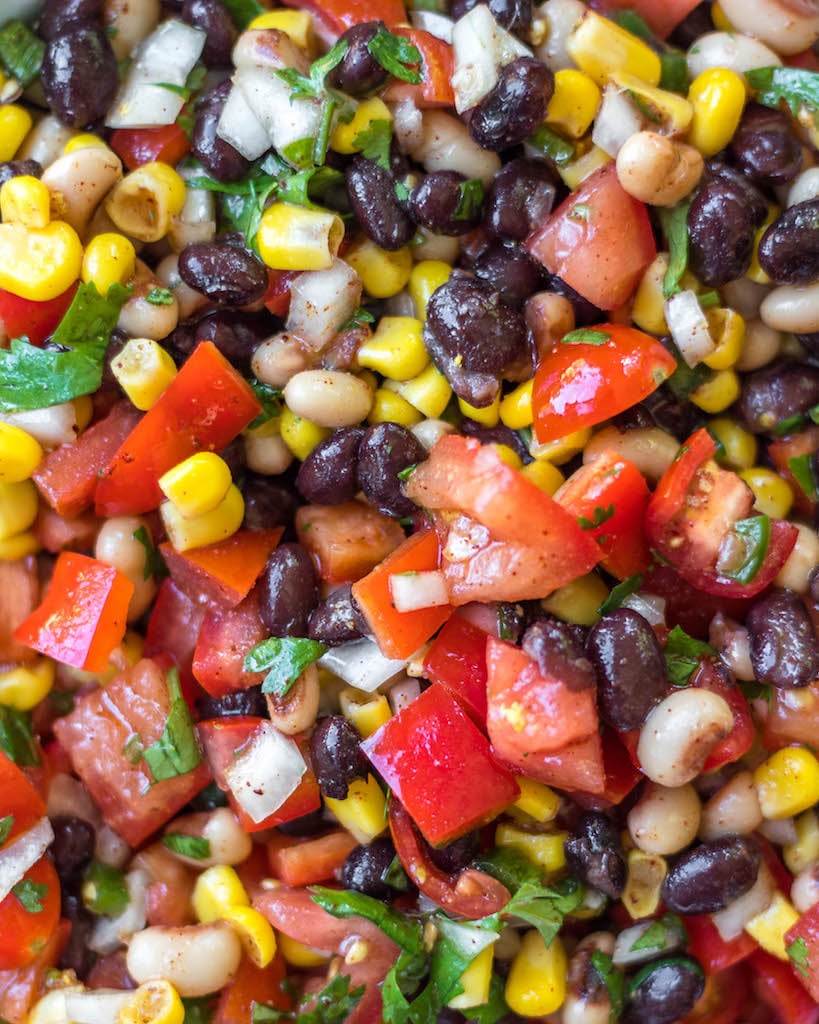 Other Party Side Recipes You'll Love!
Print
HUNGRY FOR MORE? Subscribe to my newsletter to get new recipes delivered straight to your inbox! And be sure to stay in touch on Facebook, Instagram,  and Pinterest for all of the latest updates.
PS. If you've made this recipe, don't forget to rate this recipe and let me know in the comments how you liked it!
Redneck Caviar
Redneck caviar is one of the easiest and fastest recipes to make for any gathering, party, or game day. It takes almost no time to make and is dairy free and gluten free. The recipe is versatile enough to make adjustments to to make it your own and is a favorite for kids and adults alike.
Author:
Prep Time: 10 mins
Cook Time: 0 mins
Total Time: 10 minutes
Yield: 4-6 1x
Category: meatless
Method: countertop
Cuisine: american
Diet: Vegetarian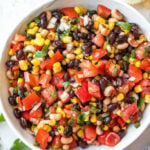 Ingredients
1 15 ounce can sweet corn drained
1 15 ounce can black-eyed peas drained and rinsed
1 15 ounce can black beans drained and rinsed
1 pound tomatoes diced (cherry or roma)
1 red bell pepper, diced
1 large jalapeño seeded and diced
1/2 onion finely diced (red or white)
1 cup Loosely packed chopped cilantro
4 tablespoons olive oil
3–4 tablespoons cup red wine vinegar
2 teaspoons chili powder
1 teaspoon cumin
1 teaspoon kosher salt
juice of one large lime
Optional Ingredients:
Extra chopped cilantro for garnish
Red pepper flakes (for added heat)
1 Extra jalapeno (for more spice)
Cheese (Feta, shredded Colby jack)
Instructions
Prep all the veggies and drain and rinse the canned ingredients.
Add all ingredients to a large mixing bowl and toss together.
Taste and add any spice to flavor.
Optional: Chill in the refrigerator for about a half hour.
Garnish with extra cilantro or cheese of your choice and serve.
Keywords: redneck caviar, how to make redneck caviar, easy redneck caviar, fast redneck caviar, gluten free redneck caviar, redneck caviar dip, dairy free redneck caviar, cowboy caviar, how to make cowboy caviar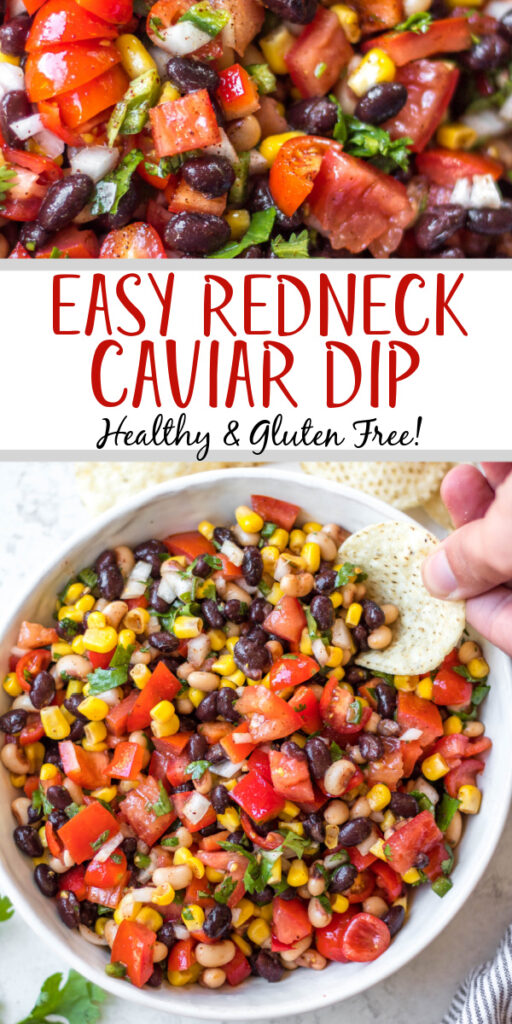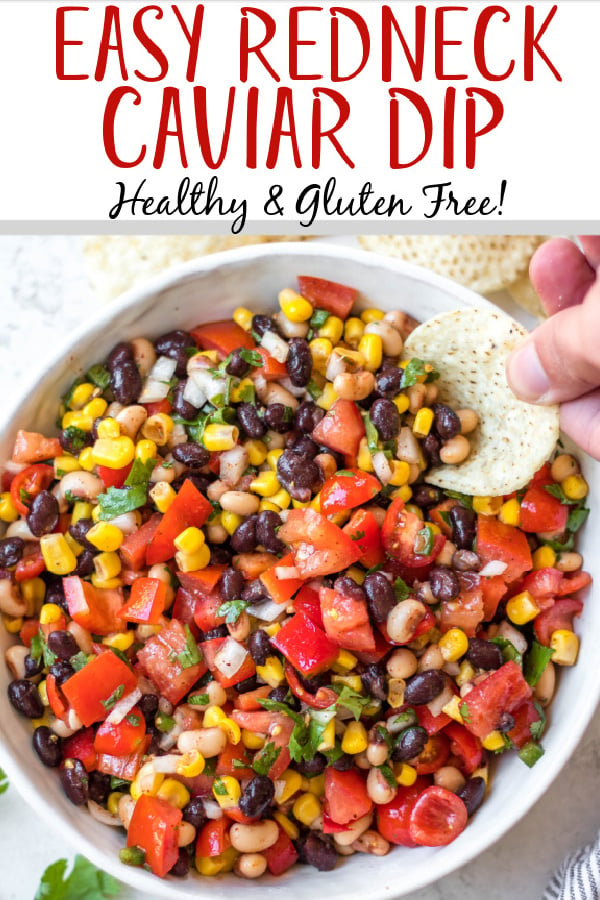 This redneck caviar recipe may contain some links that are affiliate links, though products are ones I use personally and recommend. When you purchase anything using my links, it costs you absolutely nothing extra, but it does give healthyheartyrecipes.com a little financial support which helps to keep this blog running. Thank you for your continued support, both with your dollars and your interest.