This easy vegan creamy vegetable soup is dairy-free, gluten-free and is a really easy one pot meatless soup for a weeknight dinner or meal prep recipe. It's hearty and filling, yet still healthy and full of vegetables. This vegetarian soup cooks up on the stovetop in about a half hour, is budget friendly, and makes delicious leftovers!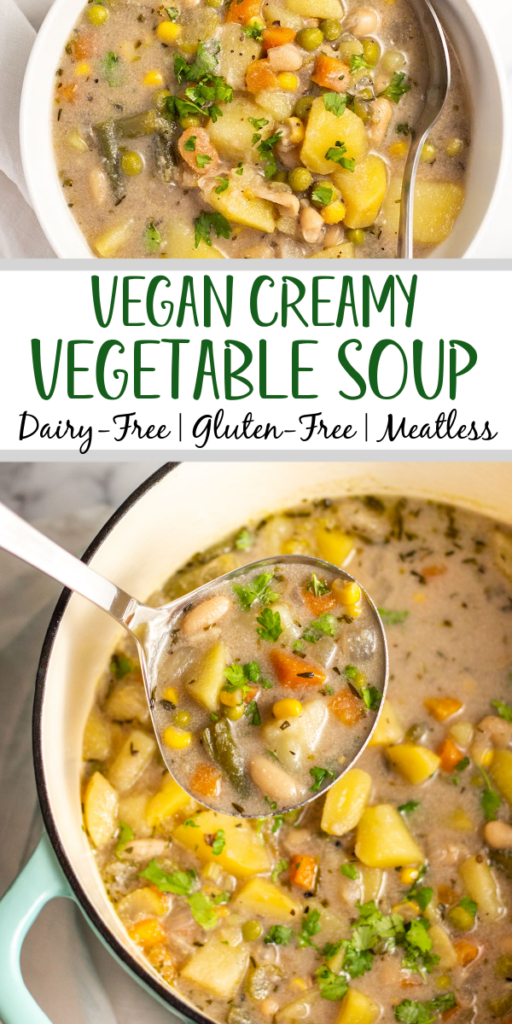 Vegan Creamy Soup Ingredients
This creamy vegetable soup requires pretty straightforward and common ingredients. It's also pretty affordable being there is no animal protein! You'll first need 2 cups of raw cashews with 2 cups of hot water, which is what will make this soup creamy. For vegetables, you will need celery, onion, golden potatoes, and a bag of frozen veggie mix. You can use what you prefer here, but I recommend the pea, corn, green bean and carrot mix.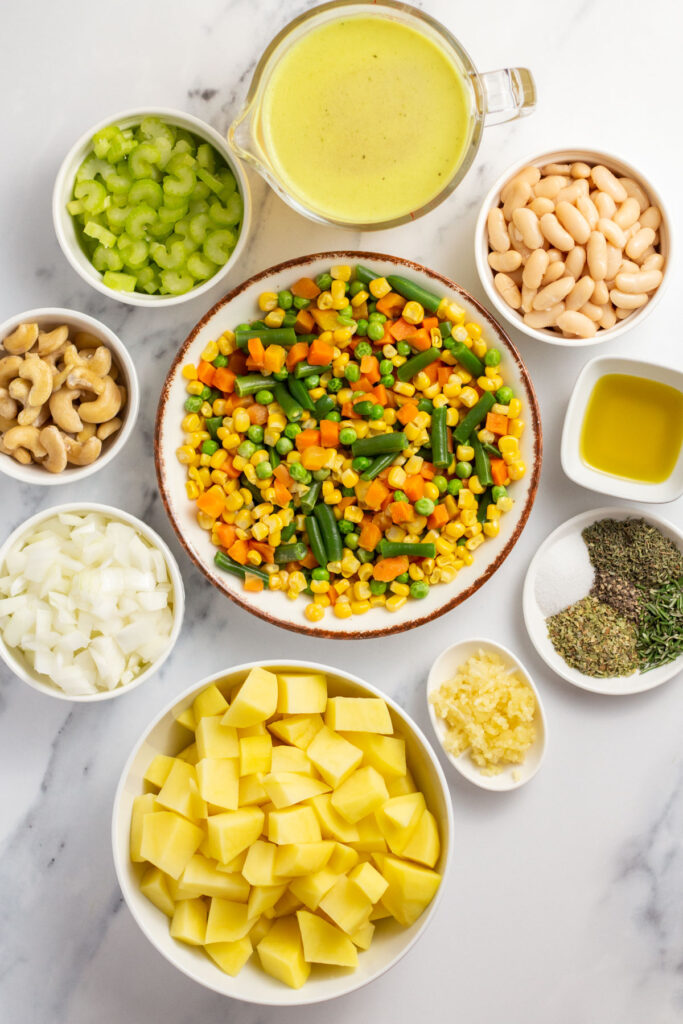 You'll also need to have a can of cannellini beans, minced garlic, 4 cups of vegetable broth, and then a few herbs and spices such as rosemary, oregano, salt and pepper.
How to Cook Your Vegetable Soup
The first step is to run your faucet until the water is as hot as it gets, and add 2 cups of the hot water to a bowl with 2 cups of raw cashews. You'll set those aside and let them soak while you cook the rest of the soup. You may have seen instructions before that requires soaking overnight, but with hot water, this is really not necessary. They will soften in the time it takes to cook your soup without the extra time required to plan ahead!
The next step is to add your olive oil to a large stock pot, heat to medium-high heat and add in your minced garlic, onion and celery. You're going to sauté the vegetables with the garlic until the onion is translucent, which will be about 3 to 5 minutes.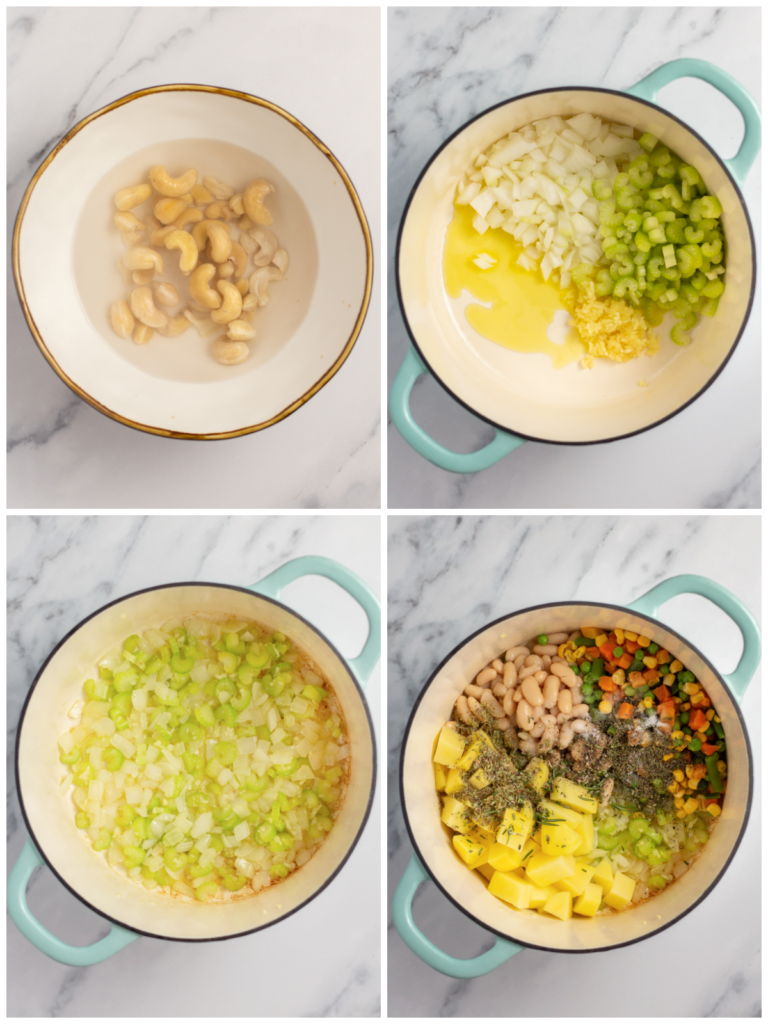 After the onions are translucent and your garlic is nice and fragrant, you're going to then add the diced golden potatoes, frozen vegetables, canned beans and spices. Then, pour in the vegetable broth and give everything a good stir to combine the veggies, spices and broth. At this point everything except for the cashews soaking in water should be in your stock pot.
Bring your soup to a boil, and then reduce the heat a bit, cover the pot and let it simmer for 25 to 30 minutes, or until the potatoes are fork tender. This may depend on how big or small your chopped your potatoes. Larger chunks will require more time than if you did a small dice.
The next step is to blend your cashews with the water. For this, you can transfer them to a blender, or you can use an immersion blender. I tend to think that an immersion blender is much easier because it's less dishes and less transferring to and from different containers.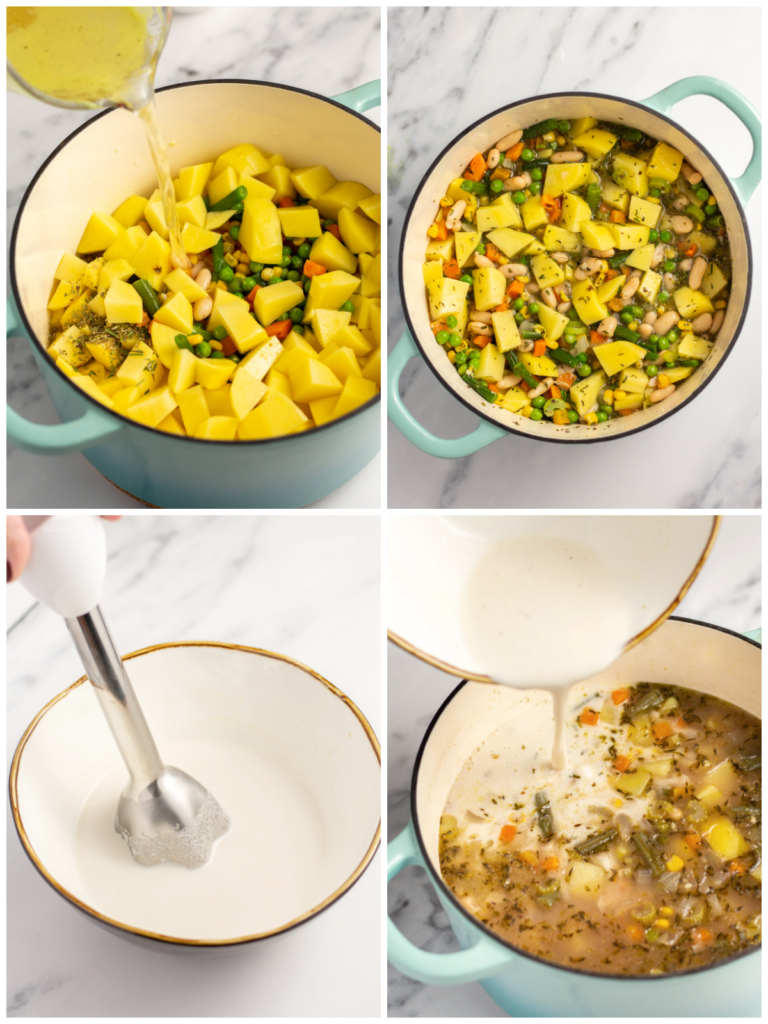 You'll want to blend it up until it's completely smooth, which may take a few minutes depending on the type and power of the blender you're using. Once it's completely liquid, you'll pour that directly into your pot of soup. Stir the cashew cream liquid into the rest of the soup, and let it simmer for an additional 10 minutes uncovered. Give it a stir every few minutes to combine everything while it thickens a bit.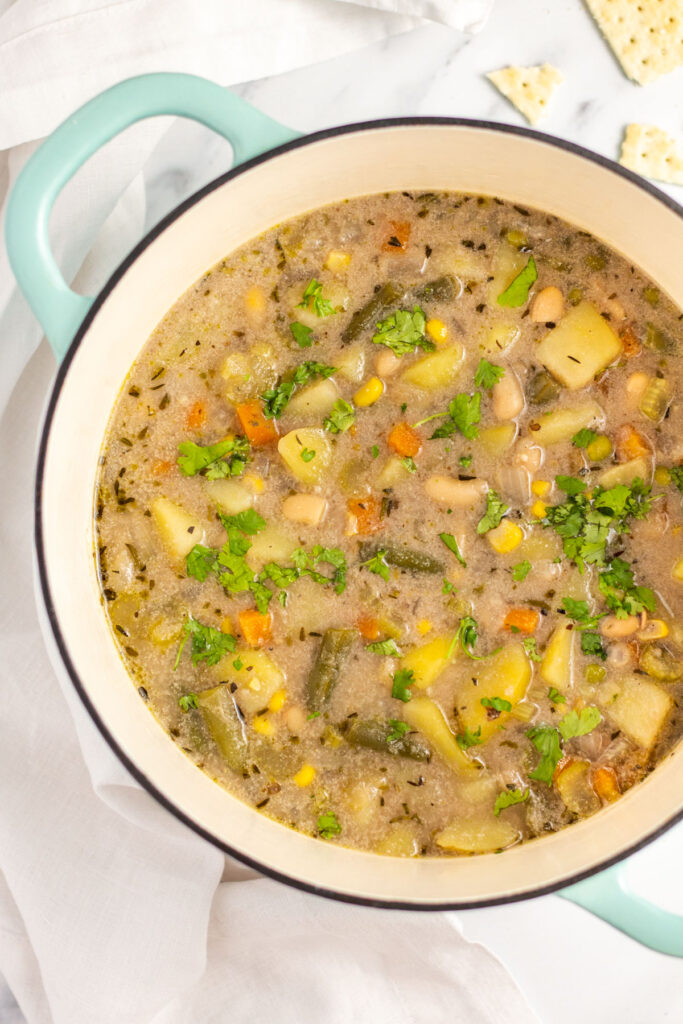 Serving and Storing Instructions
Once your soup is finished, you can serve it with fresh cracked pepper and topped with a variety of different options. This soup really goes with almost anything, such as oyster crackers, thin flax crackers, croutons, bread, or just on it's own! If you're not strictly vegan, you can also add a sprinkle of parmesan cheese (or vegan cheese!).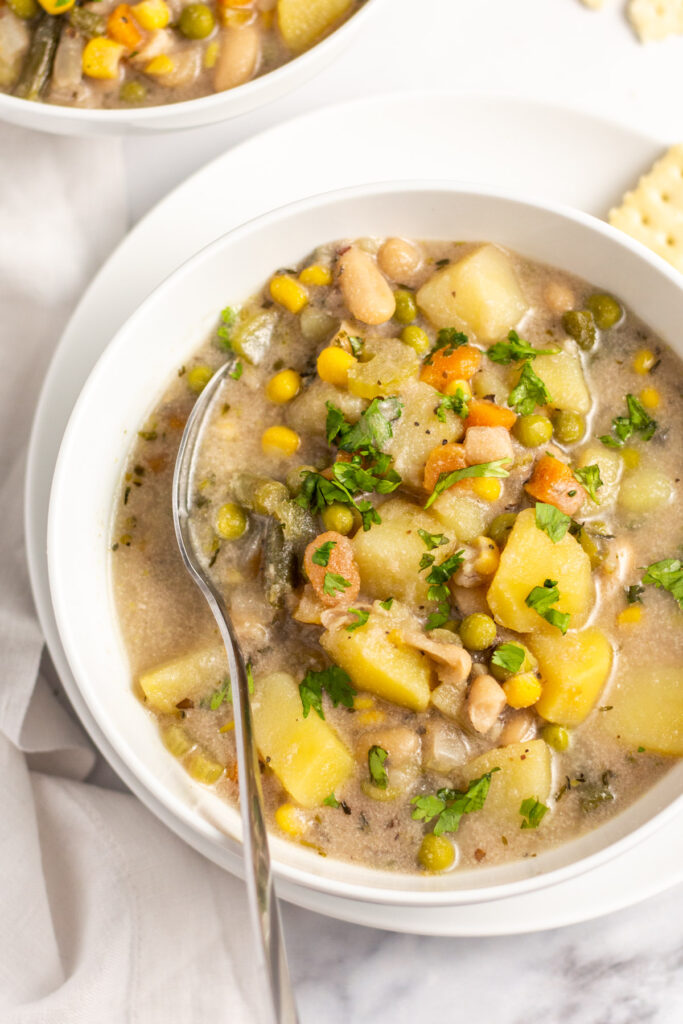 To store your soup, you'll want to let it cool completely first. Then you can ladle it into individual meal prep containers, or store it in one large container. Just make sure which ever way you choose to store it, the containers are air-tight so your leftovers will last longer. This recipe makes for a great meal prep recipe and light lunch option for the work week.
When you reheat your soup, you will need to stir it to reincorporate the cashew cream liquid in with the rest of the soup. This is normal when using nut based liquid, and just requires a few good stirs after reheating in the microwave or on the stovetop.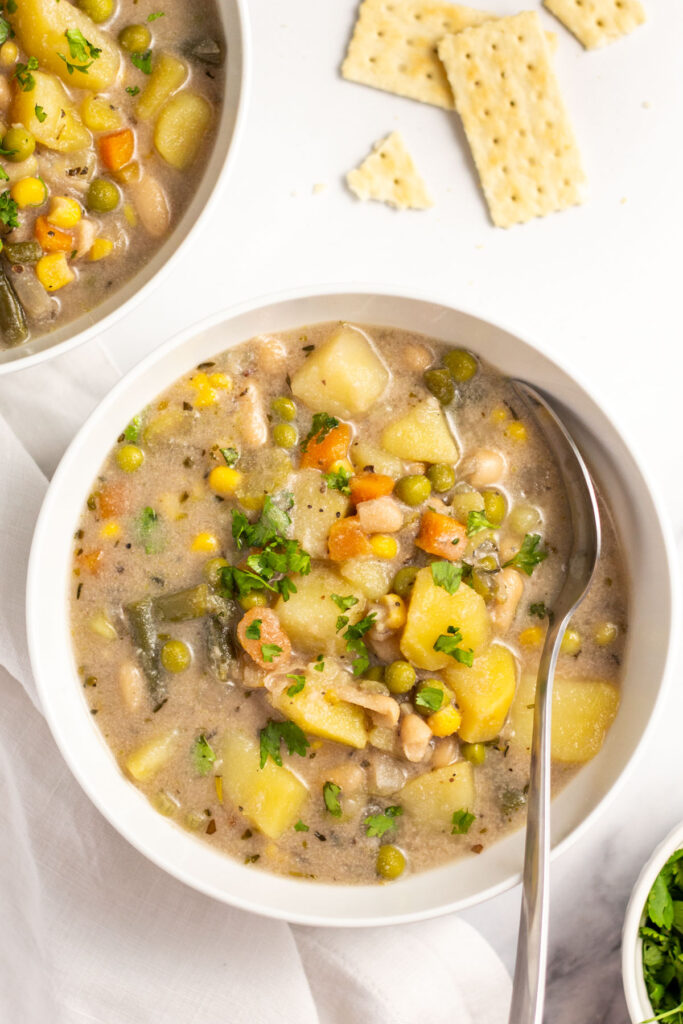 Substitutions and Additions
There are many substitutions you can make here with this creamy vegetable soup. It's really flexible and allows for the addition of pretty much any vegetable you prefer or have on hand to use. If you're adding a hearty vegetable such as carrots or broccoli, you will want to add those in with the potatoes.
If you're adding a tender vegetable such as kale or spinach, you will instead add that in at the very end being it only needs to be heated slightly to wilt in with the rest of the soup. You can also add in more beans, or different types of beans depending on your preference.
If you are not vegan or vegetarian, you can add in shredded or diced chicken or turkey here. You could also brown some ground turkey or ground chicken. As long as the meat you're adding is already cooked, you will add that in at the very end when you add in the cashew cream, and stir it into the rest of the soup. It will heat while the soup is simmering the last remaining 10 minutes.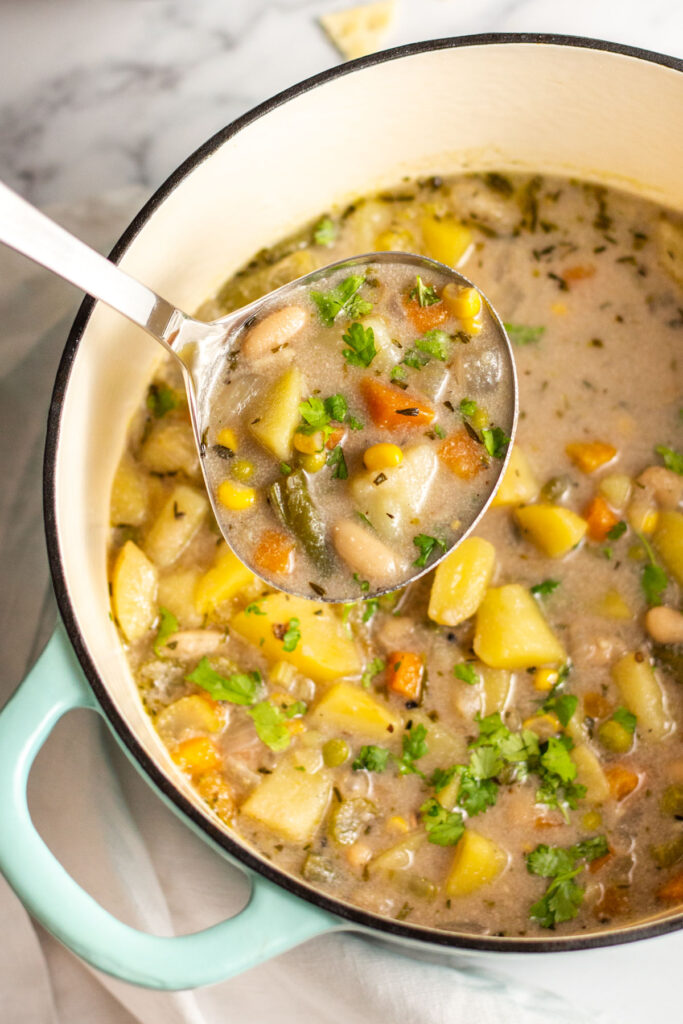 Other Meatless Recipes You'll Love:
Slow Cooker Vegetarian Minestrone Soup
4 Ingredient Vegetarian Meatballs
Slow Cooker Apple Spiced Oatmeal
Cherry Tomato and Feta Couscous Salad
Print
HUNGRY FOR MORE? Subscribe to my newsletter to get new recipes delivered straight to your inbox! And be sure to stay in touch on Facebook, Instagram,  and Pinterest for all of the latest updates.
PS. If you've made this recipe, don't forget to rate this recipe and let me know in the comments how you liked it!
Creamy Vegetable Soup
This easy vegan creamy vegetable soup is dairy-free, gluten-free and is a really easy one pot meatless soup for a weeknight dinner or meal prep recipe. It's hearty and filling, yet still healthy and full of vegetables. This vegetarian soup cooks up on the stovetop in about a half hour, is budget friendly, and makes delicious leftovers!
Author:
Prep Time: 15 minutes
Cook Time: 40 minutes
Total Time: 55 minutes
Yield: Serves 6
Category: Meatless
Method: Stovetop
Cuisine: Vegetarian
Diet: Gluten Free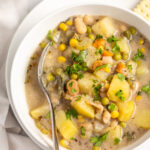 Ingredients
1 cup raw, unsalted cashews, with 2 cups very hot water
2 tablespoons olive oil
1 tablespoon minced garlic
3 ribs celery, diced
1 medium yellow onion, diced
4 cups vegetable broth
3 cups golden potatoes, diced
16–20 oz bag frozen vegetables (corn, peas, carrots, green beans)
1 can cannellini beans
2 teaspoon oregano
2 teaspoon thyme
1 teaspoon rosemary
1 teaspoon salt
1/2 teaspoon pepper
Instructions
Place your cashews in a bowl and soak in 2 cups of very hot water and set aside while you make the soup
Heat oil in a large stock pot over medium-high heat and add garlic, celery and onion. Saute for 3-5 minutes, or until onion is translucent
Add all of the remaining ingredients to the pot (except cashews and water), stir to combine and bring to a boil. Once at a boil, turn heat down to medium-low so soup is at a rolling simmer. Cover, and simmer 25-30 minutes or until the potatoes are fork tender
Pour the cashews and liquid into a blender or use an immersion blender and blend until smooth and is a milk like consistency. Pour the mixture into the soup, stir and simmer uncovered an additional 10 minutes until soup thickens
Serve with additional pepper, crackers, crusty bread, or on its own
Keywords: vegan, vegetarian, gluten free, meatless, stovetop recipes, soup recipes, vegan soup, bean soup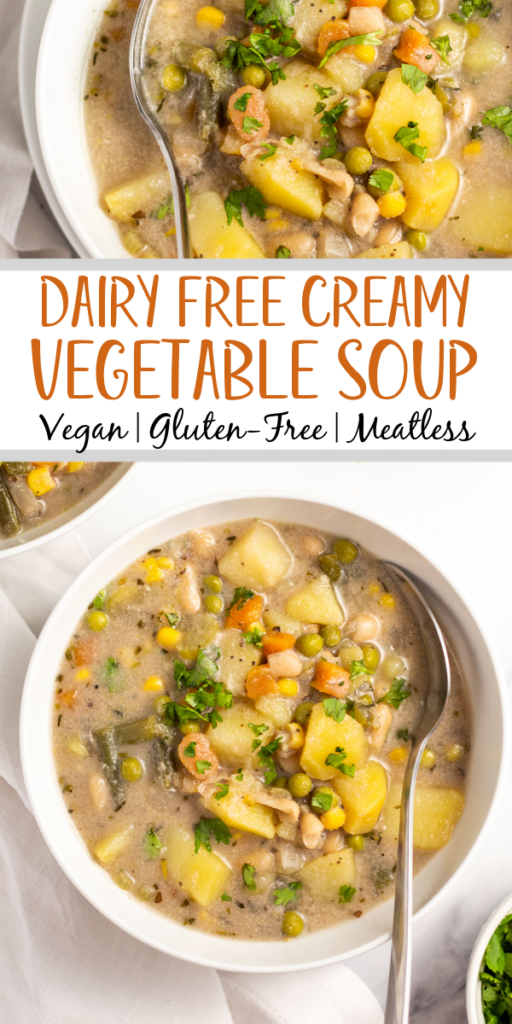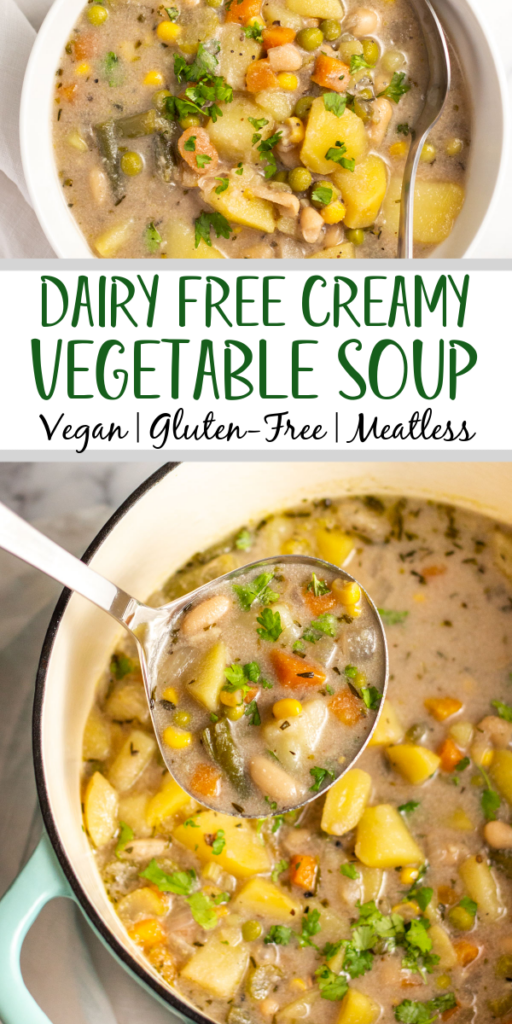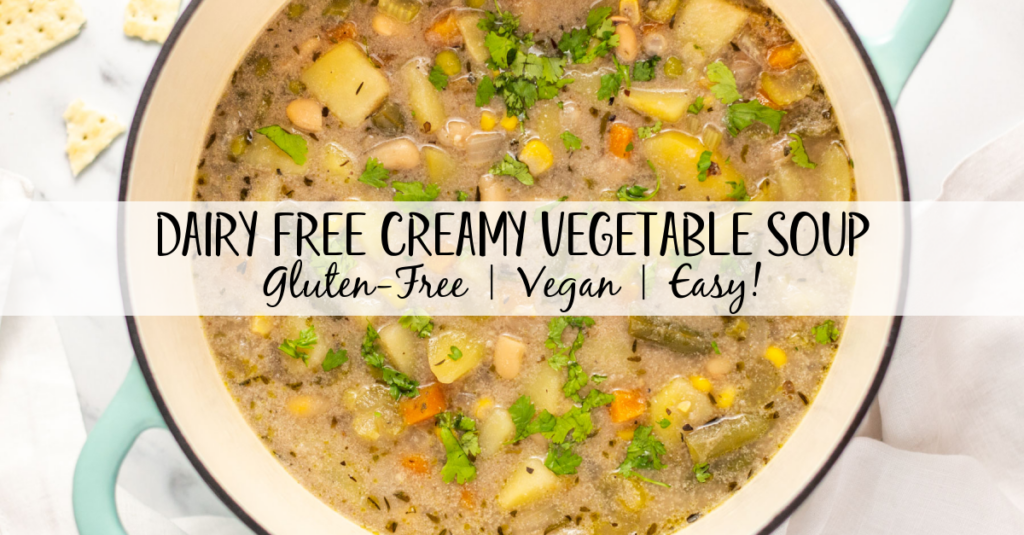 This vegan creamy vegetable soup post may contain some links that are affiliate links, though products are ones I use personally and recommend. When you purchase anything using my links, it costs you absolutely nothing extra, but it does give healthyheartyrecipes.com a little financial support which helps to keep this blog running. Thank you for your continued support, both with your dollars and your interest.