This cheesy broccoli gnocchi skillet is a super easy meatless recipe that can be made vegetarian and gluten-free. The pillowy gnocchi skillet, made in under 30 minutes, is a satisfying dish that will have even the kids eating their broccoli and wanting more.
No time to read now?
No worries! Save to Pinterest and read later.
Save to Pinterest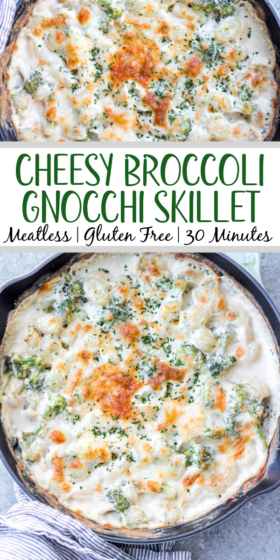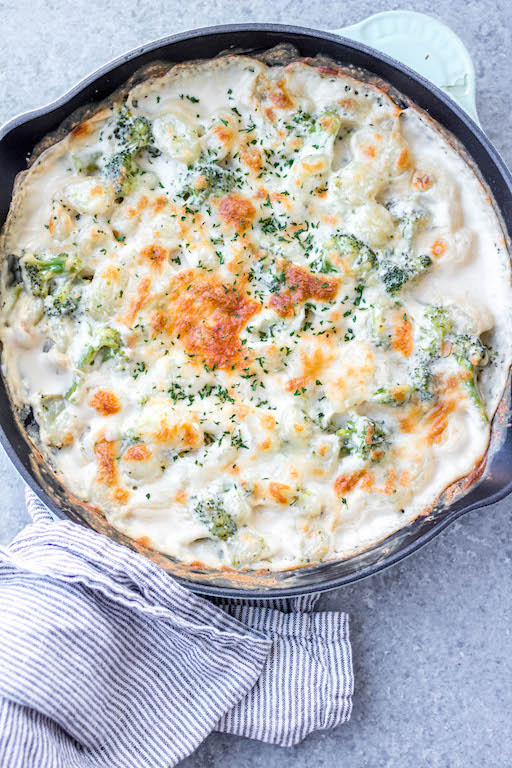 Cheesy Broccoli Gnocchi Skillet Ingredients
To make this easy skillet you first need a pound of gnocchi and 3 cups of broccoli florets. You will also need 1 cup of chicken or vegetable broth, garlic powder, onion powder, red pepper flakes, salt, and pepper. For the cheeses you'll want 4 ounces of cream cheese and 2 cups of shredded mozzarella cheese. Make sure to have the mozzarella divided into two 1 cup portions!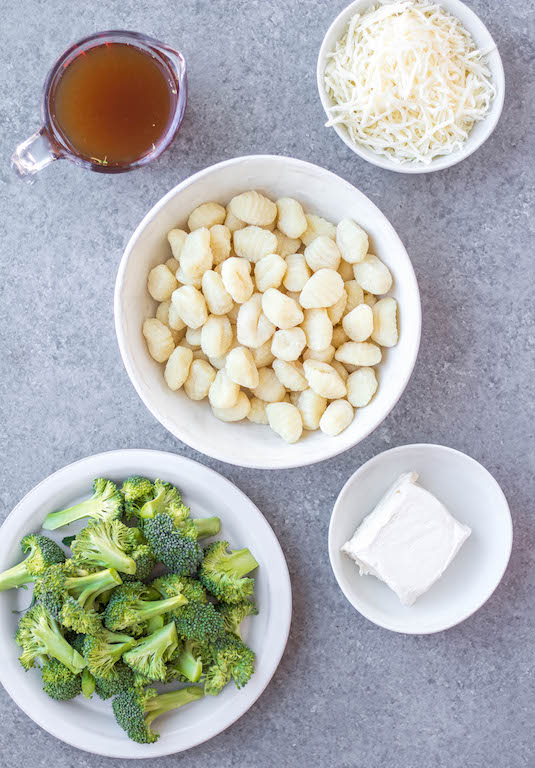 Making the Cheesy Gnocchi Skillet
Start this broccoli packed skillet by preheating the oven to 400 degrees F. Then bring a large pot of salted water to a boil. Next we add in the delicious gnocchi and fresh broccoli to simmer for around 3 minutes. Drain the water and set the broccoli and gnocchi aside for now.
Now start the cheese sauce by heating the broth in a large ovenproof skillet over medium-high heat and bring it to a simmer. Once its simmering mix in the cubes of cream cheese. Stir it around for a bit until the cheese cubes are mostly melted and combined with the broth. It doesn't have to be completely dissolved; if there are a few small chunks. They'll melt once the skillet is in the oven.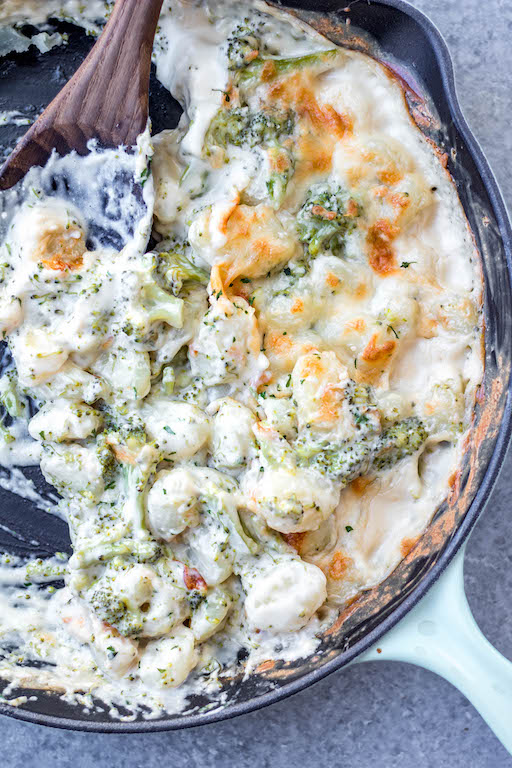 Add in the first cup of mozzarella cheese, the garlic powder, the onion powder, and the red pepper flakes. Toss in a pinch of salt and pepper and stir it a little while until the spices are combined and the mozzarella is melted and the sauce is mostly smooth. After its mixed, take it off the heat.
This is where we get to retrieve our broccoli and gnocchi from earlier and add it to the cheese sauce. Gently fold it into the cheese sauce until it's nice and combined. Top the cheesy broccoli gnocchi skillet with (you guessed it) the last cup of shredded mozzarella cheese. Into the preheated oven goes the skillet for about 15 minutes until the cheese is bubbly and the top is that nice golden brown color.
Making This Meatless Gnocchi Skillet Gluten Free
There are many gluten free gnocchi options available. To make this recipe with no gluten, simply opt for a gluten free brand at your grocery store, or grab one online. My favorites are from DeLallo, Sanniti and Le Veneziane.
Vegetarian Substitutions
Making this cheesy broccoli gnocchi skillet vegetarian is super easy. Simply swap out the shredded mozzarella for your favorite dairy free variety and use a vegetable broth instead of the chicken broth. Now you have a delicious vegetarian broccoli gnocchi skillet to enjoy!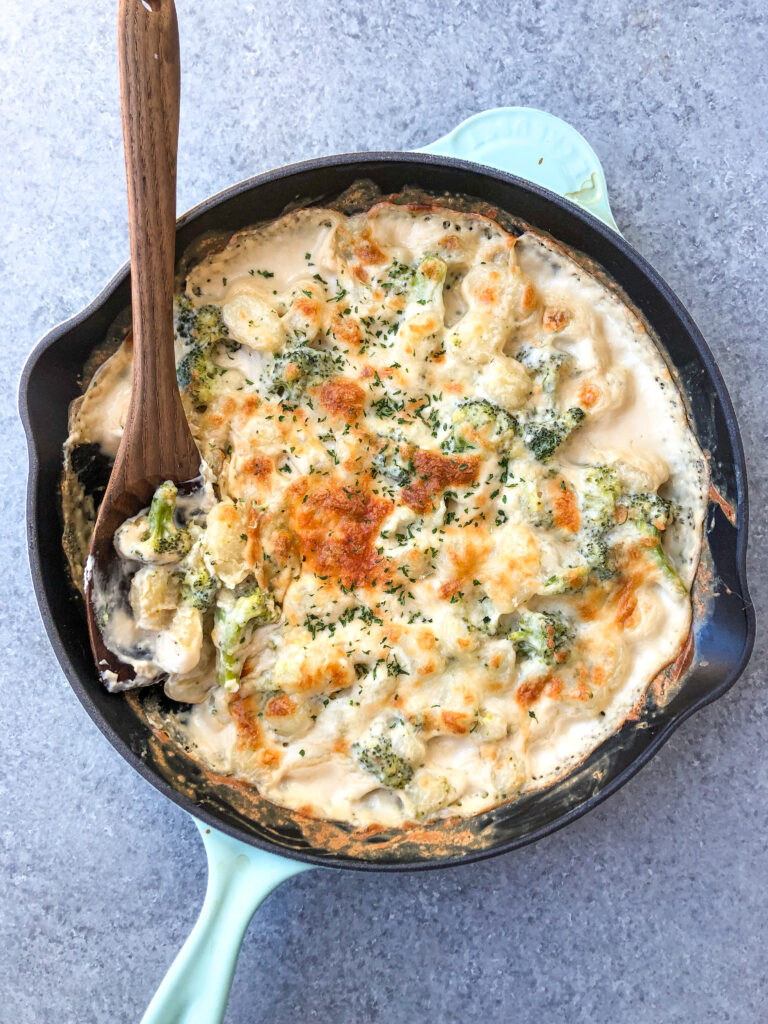 Adding Protein to the Cheesy Gnocchi Skillet
This cheesy broccoli skillet is easy to add protein to as well. Due to the short time it takes in the oven I recommend using pre cooked meats for food safety and to save time. These options are my favorites for the best results.
Shredded Chicken
To add chicken to the gnocchi skillet I recommend using a cup of pre cooked shredded chicken.. Using leftover chicken or a rotisserie chicken is easiest since its the quickest way to get chicken into the skillet. However, if you don't have cooked chicken already, a fast way is to poach it in a pot of boiling water for about 10-15 minutes. Easy enough to do while you're prepping the skillet.
Just add the shredded chicken to the cheese sauce when you incorporate the broccoli and gnocchi before you set the skillet in the oven and you're all set!
Italian Sausage
In order to add Italian sausage to this skillet I recommend using a half pound of drained, pre browned and crumbled Italian sausage. If you have any leftover from a previous recipe you're all set but if you don't it's simple enough to brown the sausage while prepping the rest of the skillet.
Just don't forget to drain the grease and add the sausage at the same time you're mixing in the broccoli and gnocchi before the skillet goes into the oven.
Serving and Storing Instructions
To serve cheesy broccoli gnocchi skillet you can garnish with a little extra red pepper flakes if that's your style. Otherwise parsley flakes or a little extra pepper on top works well too!
For storing this skillet let it cool completely and place in an airtight container or individual meal prep containers. It will store well in the refrigerator for about 5 days. It reheats well for a hearty weekday lunch or a leftover night!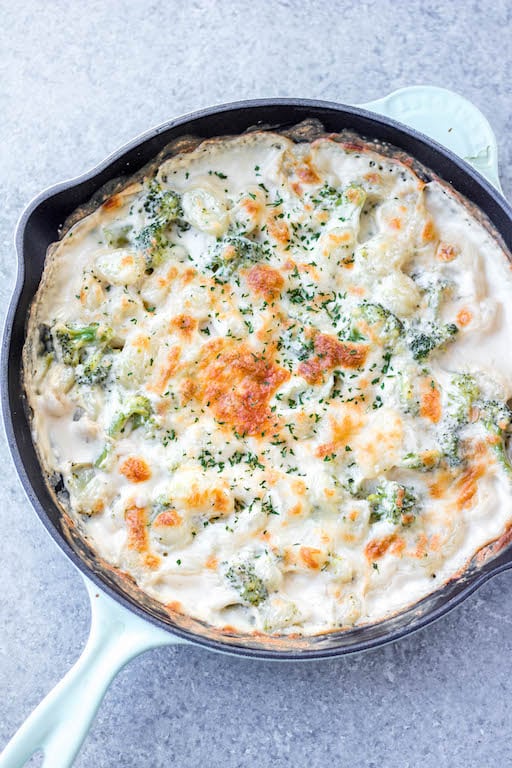 Other Skillet Recipes You'll Love:
Print
HUNGRY FOR MORE? Subscribe to my newsletter to get new recipes delivered straight to your inbox! And be sure to stay in touch on Facebook, Instagram,  and Pinterest for all of the latest updates.
PS. If you've made this recipe, don't forget to rate this recipe and let me know in the comments how you liked it!
Cheesy Broccoli Gnocchi Skillet
This cheesy broccoli gnocchi skillet is a super easy meatless recipe that can be made vegetarian and gluten-free. The pillowy gnocchi skillet, made in under 30 minutes, is a satisfying dish that will have even the kids eating their broccoli and wanting more.
Author:
Prep Time: 10 Mins
Cook Time: 25 Mins
Total Time: 35 minutes
Yield: 4 Servings 1x
Category: Meatless
Method: Oven
Cuisine: American
Diet: Gluten Free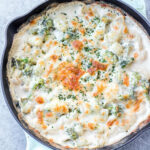 Ingredients
1 pound gnocchi (can substitute mini gnocchi or gluten-free gnocchi)
3.5 cups chopped broccoli
1 cup chicken broth
1 teaspoon garlic powder
1 teaspoon parsley flakes
1/2 teaspoon paprika
1/2 teaspoon onion powder
1/2 teaspoon red pepper flakes (or to taste)
1/2 teaspoon salt, or to taste
1/4 teaspoon pepper, or to taste
4 oz cubed cream cheese
2 cups shredded mozzarella cheese, divided
Optional: parsley, to garnish
Instructions
Preheat oven to 400 degrees F. and bring a pot of water to boil
Add the gnocchi and broccoli and simmer for 2-3 minutes, drain before gnocchi is fully cooked (they are fully cooked when they start floating to the surface of the water – remove from heat before this begins happening). Leave the broccoli and gnocchi in the strainer
Heat a large cast iron skillet (or oven-safe skillet) over medium heat and add in the broth and all seasonings. Mix to combine and bring to a boil
Add in the cream cheese and stir with a whisk until the cream cheese has mostly melted into the broth. Add in 1 cup of the shredded cheese and stir to melt into the sauce. Taste the cheese sauce and add any additional salt, pepper, garlic or paprika to taste now
Transfer the gnocchi and broccoli into the skillet and stir them into the cheese sauce. Once combined, leave the gnocchi and broccoli in an even layer in the skillet. Top with remaining 1 cup of shredded cheese
Bake for 15 minutes, or until the cheese is bubbling around the edges of the skillet. You can broil for the remaining 1-2 minutes to crisp up the top, but watch it closely
Notes
1/2 cup diced yellow onion or 1/2 cup chopped carrots are a great veggie addition. Just sauté in the skillet prior to adding the broth
Keywords: gnocchi, skillet, broccoli, cheesy broccoli, gluten free gnocchi, gnocchi skillet, dinner, meatless recipes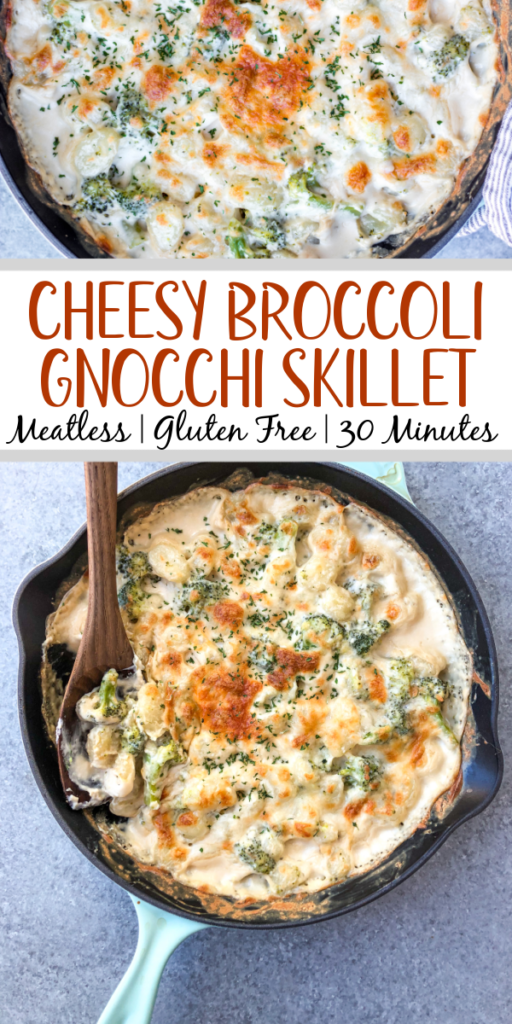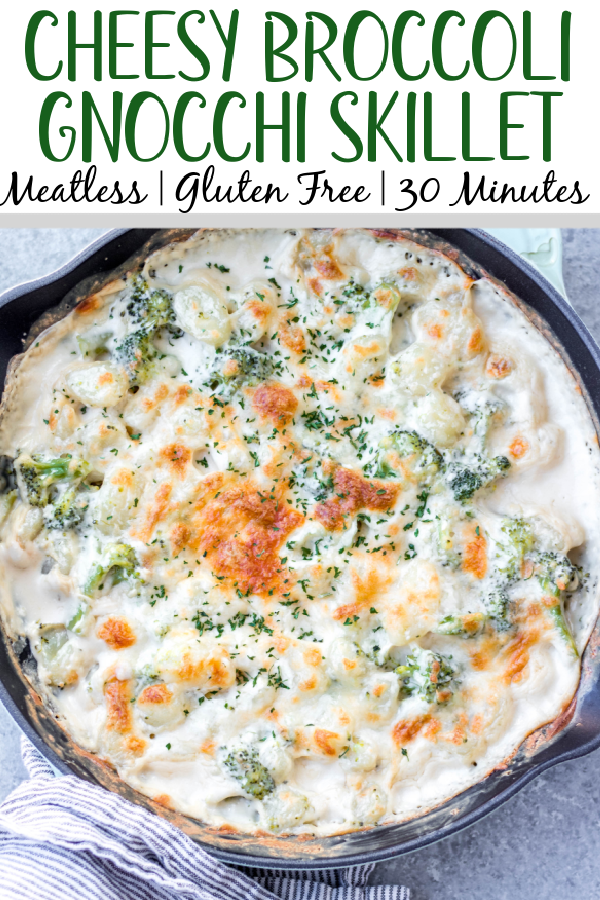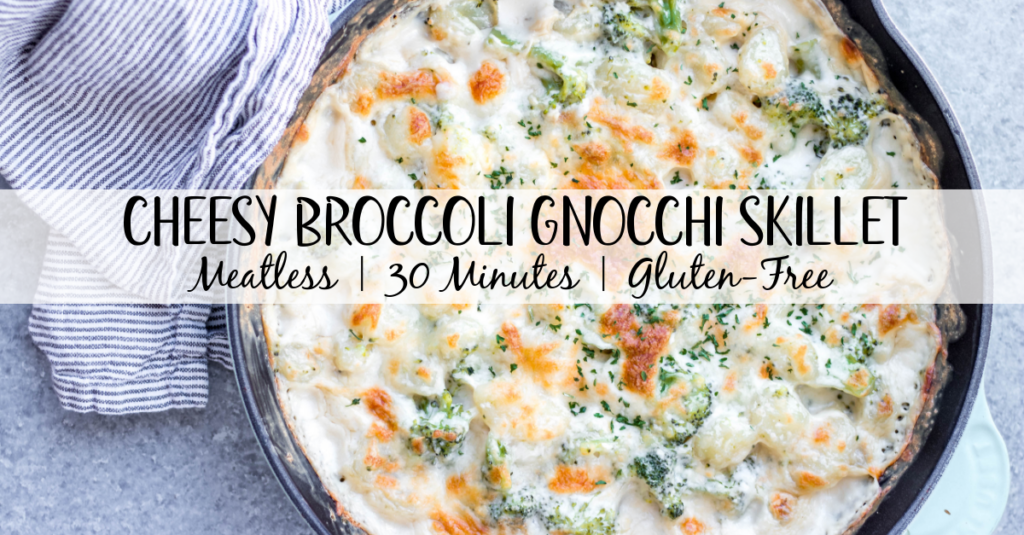 This simple cheesy broccoli gnocchi skillet post may contain some links that are affiliate links, though products are ones I use personally and recommend. When you purchase anything using my links, it costs you absolutely nothing extra, but it does give healthyheartyrecipes.com a little financial support which helps to keep this blog running. Thank you for your continued support, both with your dollars and your interest.